Welcome To The World Of  Homeschooling!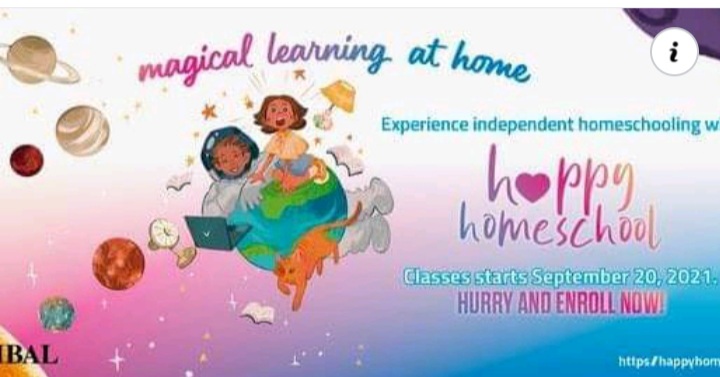 Following the success of Happy Homeschool last school year, Vibal continues its independent homeschool program for Kinder to Grade 10 for SY 2021-2022. Enrollment is now ongoing, with classes officially starting on September 20.
Vibal's Happy Homeschool now offers MAPEH and Computer in addition to the five major subjects English, Mathematics, Filipino, Science, Araling Panlipunan. Combining DepEd's K-12 Most Essential Learning Competencies (MELCs) curriculum and interest-driven learning, learners will attend online classes taught by Vibal's licensed professional teachers, take offline modular self-paced courses, and will join non-academic programs and special courses based on their interest and learning journey.
Supporting Independent Homeschoolers
With independent homeschooling, parents can avail themselves of flexible curricular options for their children. They don't have to enroll with a DepEd-accredited school or homeschool provider but can conduct homeschooling on their own or with a learning and teaching provider like Vibal to support their child in a home-based learning environment.
Vibal's Happy Homeschool is designed to provide independent homeschoolers and their parents with the support system and infrastructure of a school while retaining the flexibility for parents and learners to customize their learning journey through interest-led activities. Vibal will provide support through the help of learning specialists who would serve as students' teachers and tutors.
How are classes taught?
Classes are taught synchronously by Vibal's licensed professional teachers using VSmart School, our online school platform. Classes may also be conducted asynchronously through self-paced courseware in VSmart School, and/or assigned printed learning materials, such as Vibal's Smart Class (modular class book), Vibal's Smart Wizard (workbook), and Vibal's Academic Book (textbook).
Happy Homeschool implements a mixed ODL (online distance learning) and MDL (modular distance learning) learning modality. Learners are not required to undergo blended learning (mixed face-to-face and distance learning) at any point throughout SY 2021.
To enroll or to learn more about Vibal Happy Homeschool Program, please visit
Happy Homeschooling!
Read more about different stories of people, product reviews and events here on my blog and follow me on my social media accounts.
Read my column "Don't Miss This" at The Rizal Weekly Post
IG Name: www.instagram.com/Homeschoolingiscool
FB Name: www.facebook.com/ armi.pineda
Fb page:https://www.facebook.com/Homeiskoolcom
Www.facebook.com/HomeschoolWorld
Www.facebook.com/Kawaiibeautyandlifestylecom
Www.facebook.com/Mimiworldnet
YouTube Account: https://youtube.com/channel/UCAEszY-nm4XIPSphcppyilw
TikTok Account: https://vt.tiktok.com/ZGJkEHsLh/
Blog Site: www.Homeiskool.com
Www.Mimiworld.net
Www.Kawaiibeautyandlifestyle.com
Twitter
Www.twitter.com/Armipazpineda