Global apparel retailer UNIQLO announces the launch of the Uniqlo U 2023 Spring/Summer collection starting February 17. Designed by Artistic Director Christophe Lemaire and his UNIQLO R&D team in Paris, the new collection themed A Sense of Ease offers a modern, timeless modular wardrobe centered on clothes that make life easier.
Layering pieces in soft, matte cotton and refreshing AIRism cotton meet airy utilitarian outerwear to create a complete range of versatile basics with often unexpected, always thoughtfully considered proportions. A playful yet elegant color palette combines understated neutrals and rich blues and beiges with bright pops of green, orange, yellow, purple, and pink.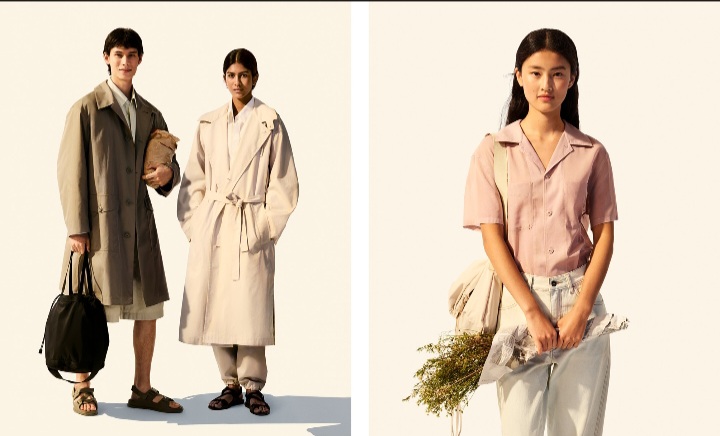 Womenswear
Womenswear offers versatility; refined, seamless activewear is interchangeable between exercise and everyday life. Tailoring is soft and easy. A sheer shirt with patch pockets in matte-finish cotton is a fresh staple. The new jeans are slightly curved with a fitted leg to create a fresh silhouette.
Menswear
A complete range of versatile basics for a modern yet timeless look. Seersucker striped shirts and cotton shorts are cut wide for an easy summer silhouette. An oversized utility jacket is a new proportion for outerwear. The crew neck 3/4 sleeve T-shirt has been further perfected with a boxy fit. Parachute pants are utilitarian and effortless with adjustable drawstrings at the hem.
Accessories
BLOCKTECH hats and jet caps, and a new bucket bag in two sizes marry form and function, while the beloved drawstring shoulder bag returns for another season.
Stylings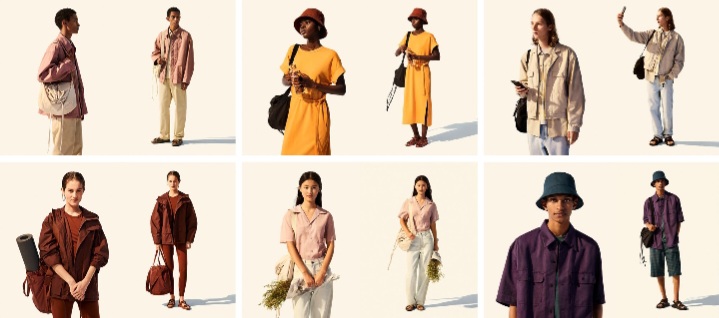 Collection
The lineup includes 27 items for women, 23 items for men, and 7 items for accessories.
Lineup and Pricing
| | | | |
| --- | --- | --- | --- |
| Items | Prices | Items | Prices |
| Outerwear | Php 3,490 – Php 6,990 | Knits | Php 1,490 – Php 2,490 |
| Pants & Skirts | Php 1,990 – Php 2,490 | Dresses | Php 1,490 – Php 2,490 |
| Shirts | Php 1,990 | Accessories | Php 1,490 – 1,990 |
| Cut & Sewn items | Php 590 – Php 1,490 | | |
Note: The above prices are provisional and subject to change
Special Website: https://www.uniqlo.com/ph/en/contents/collaboration/uniqlo-u/23ss/
UNIQLO R&D Centers
Uniqlo U is a collection of "Future LifeWear Essentials." The world-class designers and patternmakers in the Paris design team reimagine everyday clothing using innovative materials and new, contemporary silhouettes. Each season is designed with the highest precision and in pursuit of a simplified, modern wardrobe.
UNIQLO R&D Centers are places for experimentation, spaces to try new ideas, innovate and create. The Paris R&D Center complements other UNIQLO R&D Centers in Tokyo, Shanghai, New York, and Los Angeles.
Christophe Lemaire
Christophe Lemaire has been designing his namesake collection since 1991. He has also served as Artistic Director of Lacoste and Artistic Director of women's ready-to-wear at Hermès. In 2015, he partnered with UNIQLO, resulting in the UNIQLO AND LEMAIRE collaboration collections for Fall/Winter 2015 and Spring/Summer 2016. Christophe Lemaire was appointed Artistic Director of the UNIQLO Paris R&D Center in 2016, where he and his handpicked team of designers create the Uniqlo U collection.
About UNIQLO LifeWear
Apparel that comes from the Japanese values of simplicity, quality and longevity. Designed to be of the time and for the time, LifeWear is made with such modern elegance that it becomes the building blocks of each individual's style. A perfect shirt that is always being made more perfect. The simplest design hiding the most thoughtful and modern details. The best in fit and fabric made to be affordable and accessible to all. LifeWear is clothing that is constantly being innovated, bringing more warmth, more lightness, better design, and better comfort to people's lives.
About UNIQLO and Fast Retailing
UNIQLO is a brand of Fast Retailing Co., Ltd., a leading Japanese retail holding company with global headquarters in Tokyo, Japan. UNIQLO is the largest of eight brands in the Fast Retailing Group, the others being GU, Theory, PLST (Plus T), Comptoir des Cotonniers, Princesse tam.tam, J Brand and Helmut Lang. With global sales of approximately 2.3 trillion yen for the 2022 fiscal year ending August 31, 2022 (US $16.6 billion, calculated in yen using the end of August 2022 rate of $1 = 138.7 yen), Fast Retailing is one of the world's largest apparel retail companies, and UNIQLO is Japan's leading specialty retailer.
UNIQLO continues to open large-scale stores in some of the world's most important cities and locations, as part of its ongoing efforts to solidify its status as a global brand. Today the company has a total of more than 2,400 stores across the world, including Japan, Asia, Europe and North America. In 2010 UNIQLO established a social business in Bangladesh together with the Grameen Bank and currently there are around 20 Grameen-UNIQLO stores, mostly located in Dhaka.
With a corporate statement committed to changing clothes, changing conventional wisdom and change the world, Fast Retailing is dedicated to creating great clothing with new and unique value to enrich the lives of people everywhere.  For more information about UNIQLO and Fast Retailing, please visit www.uniqlo.com and www.fastretailing.com.
𝐋𝐈𝐊𝐄 & 𝐅𝐎𝐋𝐋𝐎𝐖  My 𝐏𝐀𝐆𝐄 𝐅𝐎𝐑 𝐌𝐎𝐑𝐄 𝐓𝐑𝐀𝐕𝐄𝐋 𝐑𝐄𝐂𝐎𝐌𝐌𝐄𝐍𝐃𝐀𝐓𝐈𝐎𝐍𝐒! 😊
📩 𝘋𝘔  𝘧𝘰𝘳 𝘊𝘰𝘭𝘭𝘢𝘣𝘴, 𝘍𝘦𝘢𝘵𝘶𝘳𝘦, 𝘢𝘯𝘥 𝘗𝘳𝘰𝘮𝘰𝘵𝘪𝘰𝘯𝘴
⬇️⬇️⬇️⬇️⬇️
Read my column "Don't Miss This" at The Rizal Weekly Post
IG Name: www.instagram.com/Homeschoolingiscool
FB Name: www.facebook.com/ armi.pineda
Fb page:https://www.facebook.com/Homeiskoolcom
YouTube Account: https://youtube.com/channel/UCAEszY-nm4XIPSphcppyilw
TikTok Account: https://vt.tiktok.com/ZGJkEHsLh/
Blog Site: www.Homeiskool.com
Twitter
Www.twitter.com/Armipazpineda
Other social media accounts
Www.facebook.com/Homeschoolingiscool
Www.facebook.com/Mimiworldnet
Www.facebook.com/Kawaiibeautyandlifestylecom
Www.facebook.com/Hometowngoodiesandservices
For collaboration you can email me at Armipazpineda@gmail.com